The metal bond diamond glass blades are designed for high-speed wet cutting of sheet glass and glass tiles. Manufactured with a continuous diamond rim and a bond suitable for cutting most glass and hard vitreous materials.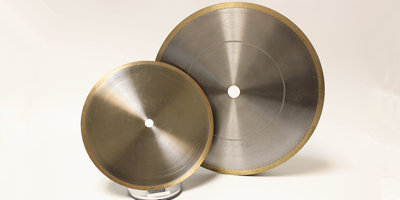 Application of metal bond diamond glass cutting disc
* Metal bond diamond glass blades for glass material;Ceramic materials;Magnetic material;Semiconductor (electronic information engineering) materials;Metal materials;Cutting and slotting of brittle metal materials. The high-precision ultra-thin cutting blade is mainly used for cutting and slotting various electronic components and precision parts in the electronic information field. It has a series of advantages such as high precision, small slitting and machining surface quality.
* Cutting and grooving of various non-metallic materials, including: semiconductor and its packaging materials, ceramic materials, magnetic materials
* Other materials, crystal glass quartz hard alloy printed circuit board, etc. These metal bond diamond blades are ideally suited to most portable tile saws and the bore sizes can be altered to suit individual machines.
Specification of metal bond diamond glass cutting blades
| | |
| --- | --- |
| SIZE(mm) | LAYER HEIGH |
| Ø80 x 1.4 x 20/15mm bore | 5mm |
| Ø100 x 1.2 x 16mm bore | 10mm |
| Ø115 x 0.8 x 16mm bore | 5mm |
| Ø125 x 0.8 x 22.2mm bore | 5mm |
| Ø150 x 0.8 x 22.2mm bore | 5mm |
| Ø180 x 0.8 x 22.2mm bore | 5mm |
| Ø200 x 0.8 x 22.2mm bore | 5mm |
| Ø230 x 0.8 x 22.2mm bore | 5mm |
| Ø250 x 0.8 x 22.2mm bore | 5mm |
| Ø300 x 1.6mm | 5mm |
| Ø350 x 1.8mm | 7.5mm |
| Ø400 x 1.8mm | 7.5mm |
| Ø450 x 2.2mm | 7.5mm |
Features of metal bond diamond cutting disc for glass
1. The adoption of metal material as the steel core increases the rigidity of the cutting blade and is more suitable for deep cutting.
2. Excellent wear resistance of working layer enables the tool body to have a long service life.
3. Rich types of binders meet the requirements of selecting more matched cutting blades for different processing objects.
4. The precise regulation of diamond abrasive grain and concentration makes the blade have good sharpness in the cutting process, and the cutting surface has the characteristics of high finish and good perpendicularity.
5. Precision machining means to ensure the geometric size of the blade with high accuracy.