The Tool Bits Of The PCD Wheel Hub Turning Tools Uses Imported PCD Raw Material By E6 . Advanced Welding Technology To Ensure No Turning, No Welding Off, No Carbonization, Long Life, Stable And Reliable Quality.The pcd wheel hub turning tools used for aluminum workpiece. Such as An Aluminum Car Wheel, Motorcycle Aluminum Wheel Hub, Electric Vehicle Aluminum Wheel Hub .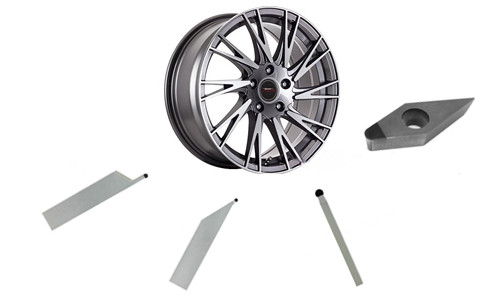 The Aluminum alloy wheel hubs manufacturing process:
Meliting, casting, heat treatment, machining and coating

Classifications of PCD wheel hub turning tools:

* Welded Integral Hub Tools(Can Be Designed To Meet Specific Customer Requirements.)
Common Specifications Include: 25*25 And 20*20 Two Kinds Of Body Specifications, Divided Into Forehand And Backhand.

The Dimensions Of The Cutter Head R Are Generally R4, R3, R2.5 And R2. The Protruding Part Of The Welding Head Of The Blade Body Is Welded With a Hard Alloy To Reinforce The Strength. The Extension Length Is Determined By The Processing Of The Hub Size And The Depth Of The Rim.
Advantages: Good Tool Rigidity, High Welding Strength, Good Shock Resistance, Stable Performance, And Large Feed.

Disadvantages: Inconvenience Of Tool Change, High Production Cost, Inconvenience Of Mailing, High Postage, And Inconvenience Of Warehouse Management.
* Replaceable Mechanical Clamping Type (Clip Type)

Common Specifications Include: Overlord Hub Blades (R4, R3, R2.5, R2), CNC Hub Blades: VCGT160412, VCGT220520, VCGT220530.

Advantages: Convenient Tool Change, Easy Manufacture, Low Manufacturing Cost, Convenient Mailing And Easy Mass Production.

Disadvantages: Tool Rigidity Is Slightly Weaker And Not Suitable For Large Feed Processing.

* Homemade Mechanical Clamping

Hub Blade, Belonging To The International Standard Size Blade, Using a Standard Carbide Substrate, High-Quality PCD Cutter Head. The Blade Has Wide Applicability, Excellent Quality, And Can Be Designed And Processed According To The Needs Of Customers. Common Specifications Include:R2、R2.5、R3、R4.
More technical parameters ,please check our product page.http://www.moresuperhard.com/7/PCD-wheel-hub-turning-tools.html
Email: sales@moresuperhard.com