Electroplated technology keeps all diamond grain attached to the steel core, high diamond exposure rate provide high efficient working performance. More SuperHard electroplated diamond saw baldes are usually be fixed on angle grinders, circular saws and handheld saws for cutting granite or marble.
Applications of electroplated diamond cutting wheel, cutting disc
Cutting and grinding marble, granite, thermosetting plastics, GRP, pre-sintered and pre-fired (green) materials, fiber glass, electro carbons, graphite, soft ferrites, PVC and pc boards, etc
Advantages of electroplated diamond cutting disc
* The cutting effect is better than sintered small diamond saw blade and won't cause broken edge
* Electroplated diamond cutting discs are more suitable on dry cutting, compare with metal diamond cutting tools
* Very sharp cutting performance and generate minimum heat
*Continuous rim cutting discs provide smoother cutting on fiberglass, plastic, ceramic tiles
*Segmented rim cutting discs are more suitable for cutting marble, granite and abrasive materials
* Key hole" and "U" shape slots are common slot types of segmented rim
* Special types also could be made upon request. With flange and without flange are both available.
Specifications of diamond cutting disc
Diameter: 100mm - 400mm
Hole: 20mm, 22.23mm, 25.4mm, 30mm
Thickness: 1.2mm - 3mm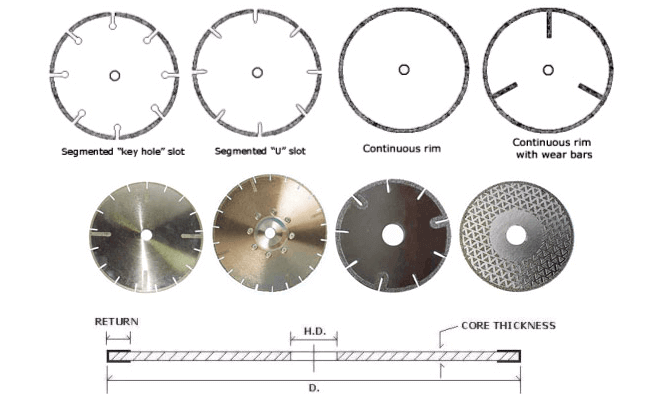 For the environmental protection, vacuum brazed diamond blade will take the place of electroplated diamond cutting disc to avoid pollution during production. We can supply vacuum brazed diamond blade
Related Products