Super abrasive diamond and CBN tools are suitable for surface grinding, OD grinding, centerless grinding, internal grinding, tool grinding, cylindrical grinding and etc. More SuperHard Diamond grinding wheels include vitrified bond diamond wheel, resin bond diamond wheel, metal diamond wheel, electroplated bond diamond tools, dicing blade, etc
Resin Diamond & CBN Grinding Wheel

* Flat diamond wheel for carbide grinding ( 1a1, 14a1, 1a2 resin diamond wheel for carbide, carbide rod grinding)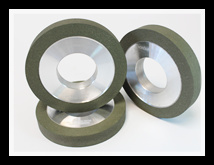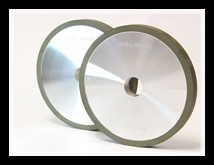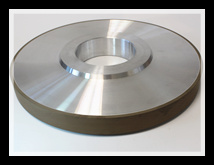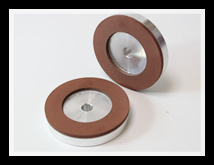 * CNC Grinding Wheel for fiuting, gashing relief angle grinding carbide and HSS cutting tools. The Model types of cnc grinding wheels include 1A1 fluting wheel, 1v1, 11v9, 12a2, 14a1, 14f1, etc.
Diamond wheel for circular saw, chain saw in Woodworking. Diamond wheel for top grinding, side grinding and face grinding circular saw
Diamond wheel for carbide hvof coated. The diameter of 1a1 resin diamond wheel can be reach up 915mm (36") .
* 1a1R diamond cutting wheel, dicing blade, back wheel for glass, quartz, QFN, sapphire, silicon wafer
Vitrified Diamond & CBN Grinding Wheel
* Diamond wheel for pcd tool grinding. The diamond wheel can to grind R0.01mm pcd inserts.
Peripheral diamond wheel, cylindrical diamond wheel

* CBN internal grinding wheel for universal joint grinding. CBN wheel for camshaft & crankshaft grinding
Electroplated diamond grinding wheel, CBN sharpening Wheel
* 6" 8" cbn grinding wheel for woodturning tools grinding.

Electroplated diamond cup wheel, electroplated diamond lapping disc
* Diamond mounted points, diamond burs , diamond rotary wheel for polishing marble, stone, carbide, glass

Dicing blade for cutting silicon wafer, copper wafer
Metal bond Diamond Wheel, Diamond Cutting Disc
Metal diamond wheel, diamond cup wheel are used for grinding glass, optical glass, pcd tools and tungsten carbide, etc
Vacuum Brazed Diamond Tools
Vacuum brazed diamond wheel, diamond grinding disc are used for cast iron and metal working in foundry.
More detailed information about pictures and size, please check More SuperHard product details page
https://www.moresuperhard.com/superabrasive-grinding-wheels/